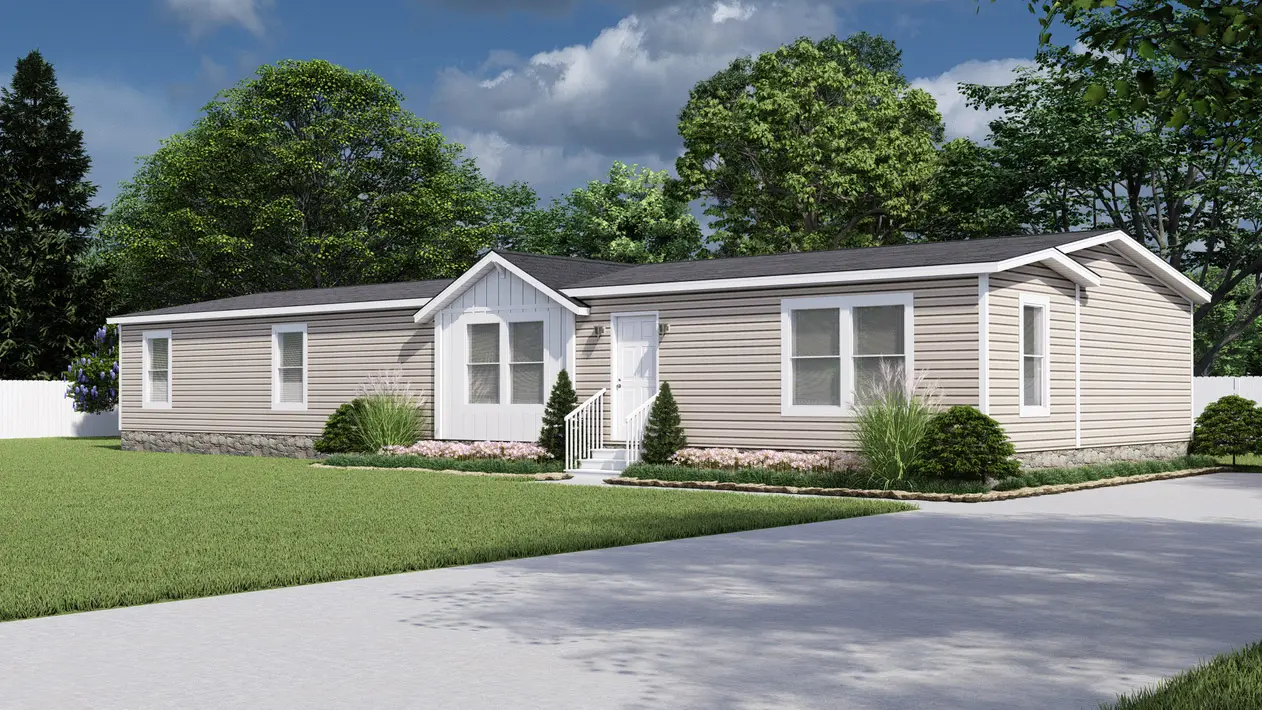 Our past projects include both new construction and repairs/restorations. Occupied and fully operational job sites are never a problem. And we can also plan, manage, and build multi-phase jobs. 
Clayton Homes builds homes a different way, a better way.
Clayton's homes are designed for how you live your life, from the superior modern construction process and quality materials, to stylish and  energy-efficient features. You can personalize built-to-order home models with the options that are right for you and your family.
Visit the Clayton Homes website for more information and Clayton Homes inventory from Little Apple Quality Homes.
Discover the Charm and Affordability of Clayton Manufactured Homes in Kansas
In the heartland of America, where affordability meets quality, Clayton Manufactured Homes in Kansas have emerged as a popular choice for homeowners seeking a comfortable and affordable housing solution. With a wide range of floor plans, exceptional craftsmanship, and a dedication to customer satisfaction, Clayton Homes provides an enticing option for those looking to settle in the beautiful state of Kansas. In this article, we will explore the benefits and features of Clayton Manufactured Homes and why they are a fantastic choice for prospective homeowners in Kansas.
1. Quality Construction and Customization Options:
Clayton Manufactured Homes in Kansas are built with a commitment to superior craftsmanship and attention to detail. These homes are constructed using high-quality materials and modern building techniques, ensuring durability and longevity. Moreover, Clayton Homes offers a variety of customization options, allowing homeowners to personalize their living spaces according to their unique preferences. From selecting floor plans to choosing finishes, fixtures, and appliances, the possibilities are endless, making each Clayton home a reflection of its owner's style and taste. Little Apple Quality Homes is an authorized dealer for Clayton Manufactured Homes, based in Manhattan, Kansas.
2. Affordability and Cost Savings:
One of the primary advantages of Clayton Manufactured Homes is their affordability. Compared to traditional site-built homes, manufactured homes offer a significantly lower price per square foot. This makes them an attractive option for budget-conscious buyers in Kansas. Additionally, Clayton Homes provides various financing options and assistance programs, making home-ownership more accessible for a wider range of individuals and families. By choosing a Clayton home, residents can enjoy substantial cost savings without compromising on quality or comfort.
3. Energy Efficiency and Sustainable Living:
Clayton Homes places a strong emphasis on energy efficiency and sustainable living. Their homes are designed to meet or exceed industry standards for energy efficiency, reducing utility costs and environmental impact. From well-insulated walls to energy-efficient appliances and HVAC systems, these homes are built to provide maximum comfort while minimizing energy consumption. Furthermore, Clayton Homes incorporates sustainable building practices and materials, ensuring a reduced carbon footprint and a healthier living environment for homeowners.
4. Community Living and Amenities:
In addition to the quality of the homes themselves, Clayton Manufactured Homes offer fantastic community living options. Many Clayton communities in Kansas feature a range of amenities, such as parks, playgrounds, fitness centers, and community centers. These amenities foster a strong sense of community and provide residents with opportunities for socializing, recreation, and a higher quality of life. Living in a Clayton community means being part of a welcoming neighborhood that offers a range of facilities and events to enhance the living experience.
5. Excellent Customer Service and Warranty:
As an authorized dealer, Little Apple Quality Homes takes pride in its exceptional customer service and after-sales support. With a reputation built on trust and reliability. In partnership, Clayton Manufactured Homes ensures that homeowners receive the utmost care and attention throughout the buying and installation process. Additionally, each Clayton home comes with a comprehensive warranty, providing peace of mind and protection against unforeseen issues. Clayton's commitment to customer satisfaction ensures that homeowners in Kansas can rely on their investment for years to come.
For those seeking a well-crafted, affordable, and customizable housing option in Kansas, Clayton Manufactured Homes stand out as an excellent choice. With their commitment to quality, energy efficiency, and community living, Clayton Homes offers a range of benefits that make home-ownership a reality for many. By choosing a Clayton Manufactured home, residents can enjoy all the charm and affordability that Kansas has to offer, while experiencing the comfort and pride of owning a beautiful home.
Contact Little Apple Quality Homes for more information.